This one is a little late this month, I know. But the past couple of weeks did not seem the right time to talk about art as our news and global conversations have been, rightly, dominated by far more urgent issues.
Add to that, the artworld has a long way to go to address its systemic racism both in terms of management and collection and I didn't want to distract from reflection on that.
And my fears have only been heightened by the news that many of London's commercial galleries will be open from next week. This will bring the opportunity to see artworks in person (Great) but, oh, too many of the shows opening in these places are of White artists and, specifically, White men.
The Tates are not due to open until August and I've not heard any news (yet) from the other big guns but I am unlikely to visit galleries until at least then as I am out of town. But if you are in London, I've listed a couple that you may enjoy. However, most of these exhibitions will have reduced opening hours and timed visiting slots so do check before you go.
However, if, like me, London ain't possible either, I've a few great online sources to share with you.
Enjoy and remember to keep telling yourself that this too will pass. Until then, I hope there's something in this list to feed your creative soul. Links, as ever, in the titles.
---
In Person
Cerith Wyn Evans: No realm of thought… No field of vision, White Cube Bermondsey
Cerith's conceptual practice incorporates a wide range of media, often exploring the relation between light and text, between thought and meaning; often constructing situations conscious of a viewers' presence. This collection at White Cube in Bermondsey is of new works and features installation, sculpture and painting that are centred around Cerith's longstanding exploration of transcendence, translation and temporality. If you are unable to visit, White Cube has uploaded a short video on to its website here. Runs to 2 August. Admission free.
---
Hito Steyerl: The Tower, Galerie Thaddeus Ropac
Hito is a German filmmaker and artists and her areas of main interest have tended to be media, technology and the global circulation of images. This immersive installation The Tower (2015) focuses on the making of the video game Skyscraper: Stairway to Chaos by the Ukrainian company Ace3D, based on Saddam Hussein's unrealised plans to reconstruct the Tower of Babel in Babylon, the ancient capital that he began rebuilding in the 1980s. Part of an origin myth explaining the development of different languages, the Tower of Babel has come to symbolise the hubris of humans aspiring to godliness and the chaos resulting from an inability to communicate. Runs to 31 July; admission free.
---
Crushed, Cast, Constructed: Sculpture by John Chamberlain, Urs Fischer, and Charles Ray, Gagosian Grosvenor Hill
An interesting exploration of three divergent approaches to sculptural process here with works in metal by Chamberlain, Fischer, and Ray, allowing visitors to consider the conversation around material and method. Sadly, it's a conversation between three White male artists, which kind of emphasises the problem the art world has. Nevertheless, some interesting works here allowing for a focused exploration of individual approach and identity. Runs to 31 July 2020; admission free.
---
Online
Among the Trees, Hayward Gallery
A show I am crossing all my fingers that I will be able to see in person. A group exhibition that looks at how artists over the past 50 years have explored our relationship with trees and forests seems, on the surface, a real leftfield choice but I have watched this virtual tour numerous times over the past few weeks and have found its tranquillity and its respect for nature a great comfort. The exhibition ably demonstrates an inextricable link between human culture and 'tree culture' with some terrific pieces. It's impressive and affecting.
---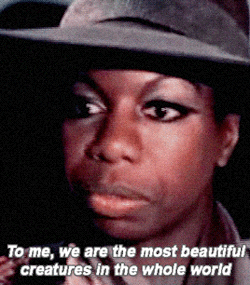 What Happened, Miss Simone?, Netflix
This film was actually made five years ago but its presence on Netflix over the past few months has not only been welcome but also – unexpectedly – deeply relevant and resonant with the protests and marches that we have seen in recent weeks. Nina Simone was a woman and artist who felt the full weight of an artist's responsibility on her shoulders. Her mantra that an artist's duty is to reflect the times is one that she very much lived – at great personal cost. She was a woman that suffered – and a woman that brought suffering to those closest to her. A brilliant insight into a remarkable and unique woman.
---
Oceania, Royal Academy of Arts
I have been thinking a lot about this show during lockdown. It originally ran at the RA in the Autumn of 2018. I thought it was a wonder. This show's terrific blend of artefacts and contemporary art blew me away but there was so much for me to absorb – there was so much for me to learn – and so I was thrilled to find that the RA's YouTube channel has a wonderful resource of short videos where the contemporary artists talk through their works, explaining how the methods and memories of their ancestors informed their creation, and where the details in some of the amazing indigenous works are fully explained.
---
Caravaggio: His Life and Style in Three Paintings, National Gallery
I LOVE THIS!! A fantastic 30-minute lecture by Letizia Treves, the NG's Curator of Later Italian, Spanish, and French 17th-century Paintings that I have been sharing widely. Caravaggio is an artist that, rightly, excites many. A revolutionary on the canvas and a controversial figure away from it. This is a terrific overview that not only gives us an overview of the artist's (short) life but demonstrates the development of his brilliance through three paintings that hang on the walls of the National Gallery.
---
Francis Bacon: A Brush with Violence, YouTube
A documentary that I expect more than a few of you saw when it was first televised three years ago but, if you haven't seen this, don't miss it now that it is free to view on YouTube. Francis Bacon was an utterly unique artist and, quite probably, the most brilliant British artist of the 20th century. But if you think his paintings are disturbed, well, that very much reflects the man. His paintings are dark, violent, erotic and exciting. But that often teeters into twisted horror. They are enigmatic yet profoundly psychological artworks and this documentary goes a long way to revealing the life and mind – and brilliance – behind the paintings.
---
Léon Spilliaert, Royal Academy of Arts
The RA has extended this exhibition to the end of September so I've my fingers crossed that I will finally get to see this show. However, until I can see it in person, I have been studying this in-depth overview that is currently hosted on the RA's website. Born in Belgium, Leon was an unusual artist. Self-taught, he forged his own artistic identity, which was shaped by the affinity he felt with writers and thinkers such as Edgar Allan Poe and Friedrich Nietzsche. There's a darkness to his works that seems to fluctuate between serene stillness and gothic foreboding.
---
Faith Ringgold: In Conversation, Tate Talks
Faith Ringgold has been a pioneering figure in American art for six decades. Born in Harlem in 1930, Faith has developed a wide-ranging practice that includes painting, sculpture, quilt-making, writing and performance. Her poetic and politically-engaged work is part of museum collections across the United States, and featured in the 2017 exhibition Soul of a Nation: Art in the Age of Black Power at Tate Modern.​ Hear her discuss her career from the 1960s to the present day.