Hello everybody,
Lockdown seems to be slowly being lifted. Obviously, galleries are cautious though and many have significant work to do to bring in social distancing measures before they reopen. However, some galleries will be opening in July, though most of the big ones are likely to remain closed until August at least.
That means my list this month is a little bit of art you can see in-person and a sprinkling of works, exhibitions, and documentaries we can watch online.
As ever, I hope you find something to nourish you.
Stay safe,
V x
---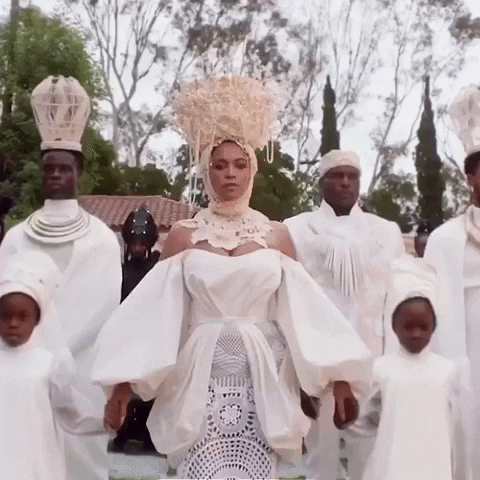 Black is King: A Film by Beyoncé, Disney Plus
Written, directed and executive produced by Beyoncé, this visual album will premiere globally on Disney Plus on July 31, the one-year anniversary of the theatrical release of The Lion King remake, for which Queen Bey voiced Nala. According to the PR, "Black Is King is a celebratory memoir for the world on the Black experience. The film is a story for the ages that informs and rebuilds the present. A reunion of cultures and shared generational beliefs. A story of how the people left most broken have an extraordinary gift and a purposeful future." Subscriptions to Disney Plus start at £5.99 per month.
---
Linderism Exhibition Tour, Kettle's Yard Online
Oh, how I love this! A 20-minute guided tour to the fabulous Linder exhibition which had just opened at Kettle's Yard when galleries were required to close. But fear not if, like me, you missed that short window to see the show as we have the pleasure of curator Amy Tobin's insight into an exploration of Linder's practice as performance artist, zine-maker, musician, documentary-photographer, collaborator, muse, guru, medium and body-builder. Available on You-Tube for free.
---
Gordon Parks: Part One, Alison Jacques Gallery
The first in a two-part exhibition of works by the pioneering American photographer Gordon Parks. (Part Two opens in September.) Born into poverty and segregation in Fort Scott, Kansas, Gordon Parks was a humanitarian with a deep and life-long commitment to social justice. He rapidly developed a deeply personal style of photography with a focus on race relations, poverty, civil rights, and urban life. Part One focuses on two defining stories, Segregation in the South (1956) and Black Muslims (1963), both of which initially appeared in Life magazine. As he commented, "I saw that the camera could be a weapon against poverty, against racism, against all sorts of social wrongs". Runs to 1 August. Admission free.
---
Rineke Dijkstra, Marian Goodman Gallery
Welcome back Rineke Dijkstra! Due to the gallery's closure on 13 March 2020, this show never opened to the public but Marian Goodman is now back open and with one of my favourite contemporary photographers. On display is the UK premiere of Night Watching (2019), a video installation commissioned and first shown at the Rijksmuseum in 2019. Rineke is also presenting a selection of works from a number of her recognised photography series, including Family Portraits (2012–), Chen and Efrat (1999–2005) and Emma, Lucy, Cecile, (Three Sisters) (2008–2014). Admission is free but will be by appointment only and timed slots can be booked via the gallery website.
---
Kimono: Kyoto to Catwalk, Victoria and Albert Museum Online
Oh my goodness, this show looks DIVINE! Couldn't get to Kimono before the V&A had to close its doors but these films take you on a personal curator tour as Anna Jackson guides you through the exhibition spaces, providing a personal insight into the making of the show, star exhibits and the fascinating history of the kimono. Sometimes perceived as traditional, timeless and unchanging, Kimono: Kyoto to Catwalk counters this conception, presenting the garment as a dynamic and constantly evolving icon of fashion. Available on You Tube for free.
---
Michael Craig-Martin (W1 Curates), Oxford Street
Michael Craig-Martin has created a new work for an iconic site in London's Oxford Street, which will run 24hrs a day until 12 July 2020. For many years Michael has had an interest in creating public artworks for digital screens on the architectural scale now familiar in advertising, but the opportunities for artists to do so are rare. Describing this new work, Michael said: "Normally I only draw images of ordinary mass-produced objects, everything from safety pins to shoes and chairs, from books to mobile phones and laptops. During the lockdown the only direct shopping that was possible was for food, and I found myself looking at fruit and vegetables in a new way and began to draw them. This digital work is the result." Available for free; Flannels Flagship building, 161-167 Oxford St, Soho, London W1D 2JP (corner of Poland Street).
---
Radical Figures: Painting in the New Millennium, Whitechapel Gallery
Whitechapel Gallery will reopen to the public on 14 July with new Health & Safety measures in place. Good news, especially as the reopening gives us a second chance to see the major exhibition Radical Figures: Painting in the New Millennium. Surveying a new direction in figurative painting, the exhibition features works by Michael Armitage, Cecily Brown, Nicole Eisenman, Sanya Kantarovsky, Tala Madani, Ryan Mosley, Christina Quarles, Daniel Richter, Dana Schutz and Tschabalala Self. Runs to 30 August. Admission £9.50 (concessions available).
---
About the Human Figure, Michael Werner Gallery
From the beginning of time, humans have desired to see themselves reflected in art. The human figure was rendered on cave walls and carved into stones to be carried as totems or idols. Since antiquity, artists have expanded on these early impulses, and the portrayal of the human figure has a long tradition in the history of art. Displaying works created from the last 110 years, About the Human Figure is a group exhibition that will explore the limitless possibilities of the human figure in painting and sculpture.  Names on the walls are mostly men, it seems, and will include Sigmar Polke, Raphaela Simon, James Lee Byars, Enrico David, and Peter Doig. Runs from 7 July to 4 September. Admission free.
---
Picasso and Paper, Royal Academy of Arts
The National Gallery is reopening on July 8, Tate at the end of the month and I'll be looking at their schedules next month but one show I REALLY want to focus on is this blockbuster Picasso show that ran at the RA earlier this year wowing critics and audiences alike. The Royal Academy is back open to the public on July 16 (to Friends from 9 July) and that'll give us four more weeks to catch this innovative look at a 'genius at play' and how he interrogated and manipulated paper in so many forms to create and contort his artworks. Runs to August 2. Admission £20 (concessions available).
---
It breaks my heart that we can no longer travel to Iran. Not that COVID was the only hurdle; due to the geopolitical situation, travel restrictions were in place before lockdown struck. So, I am genuinely thrilled that we have this three-part series of the artistic treasures in this great country. Western documentary teams are seldom given access, but broadcaster and journalist Samira Ahmed has been given a rare opportunity to discover Iran's rich, colourful culture and extraordinary history. Samira journeys to places rarely seen by western audiences to reveal how the Persian Empire was born, the mysterious writing of its early people and how Iran's powerful kings built a vast empire that became the envy of the ancient world. Available on BBC iPlayer for 11 months for free.
---